Jefftron Leviathan NGRS Optical to Stock (Rear Wired)
This is a new and exciting product from Jefftron. The Jefftron Leviathan NGRS is one of the most advanced Electronic Trigger Units (ETU) available on the airsoft market today.
This innovative product combines optical and switch sensors for superior handling and durability. The NGRS isn't just another ETU and has built-in wireless communication, ensuring a super quick and easy set up with just your iPhone or Android smartphone!
The trigger on this bad boy is so impressive. With each trigger pull, the trigger only travels 0.13mm, giving the ultimate hair trigger. As well as this excellent feature, the trigger also has a unique Real Feel Trigger System (RFTS), which has an integrated spring that simulates trigger resistance, just as you'd feel in a real firearm. This then adds a secondary resistance with release after you have fired. The RFTS was actually designed by a professional gunsmith, so is made to feel just like a real steel weapon.
This remarkable trigger unit offers real time response, so when you change the settings you can immediately see and test the result of your changes.
In terms of the technicalities the Leviathan NGRS is built to fully integrate in to the gearbox, replacing the original trigger contacts.
Please note - Fitting this part requires gun disassembly and reassembly and should be fitted by an experienced airsoft technician.

Key Features:
Optical Sensors are used to detect the sector gear and selector plate
The tactile trigger switch makes a very short click giving you a super hair trigger mod
The unique RFTS (Real Feel Trigger Switch) simulates a real feel trigger pull, and adds secondary resistance after each trigger pull - the feel is comparable to shooting with a real calibre 22lr in an AR15.
Main Functions:
New shooting modes which are independent for every position on the fire selector (SAFE - SEMI - AUTO).
Three adjustable burst fire options ranging from 2 to 20 shots.
Preserves empty magazine detection.
Rate of fire can be reduce to 40%. This adds a break between shots to reduce RoF (Rate of Fire), and gives a fast trigger response even with very low rate of fire
Adjustable strength active braking (can be disabled).
Pre-cocking function for instant shot on SEMI fire.
Delay between shots adds time in which it isn't possible to shoot, this simulates the delay from a real gun reload or recoil (range 0,1 - 4,0 seconds).
Electronic fuse sets sensitivity for high current detection to avoid any damage if something goes wrong.
Low battery indication for 2S - 4S li-pol and 3S - 4S li-fe.
Virtual magazine simulates low capacity magazines, and will force the gun to stop. shooting when the mag is empty. You can even set a warning for the shot before your mag gets empty, allowing you time to reload.
On the board are input and output ports for controlling external devices or Leviathans.
Statistics screen shows shooting output with cycle timing, motor current consumption, rate of fire and temperatures. This allows you to fine-tune your gearbox upgrade.
Application shows actual battery voltage value. Coloured lines indicate battery charge status where green is OK, orange will warn after each shot and red will not allow you to shoot.
User can save multiple setting configurations under separate profiles.
Update function fixes bugs and adds new features to the device.
There are three shot counters. The total counts every shot during the device lifetime, the user counter can be reset by the user anytime, and the power-up counter is reset by battery connection.
The error log shows errors made during the device life, and can also be erased by user.
For better security the wireless connection can be disabled by the selector switch (can be deactivated).
Leviathan monitors the current, voltage and temperature to avoid any damage when an issue occurs.
Motor vibrates and beeps as a feedback for the user.
Programmed settings are saved in the Leviathan memory immediately after they're changed, so you can immediately test it, and settings aren't lost when the battery is disconnected or the connection with your smartphone is lost.
New functions are available for free for every user via the online update function.

Fire Modes:
These settings are Independent for every position on the fire selector (SAFE - SEMI - AUTO)

SAFE: no response on the trigger pull.
Semi: fires single shot per trigger pull.
Semi/BurstX: short trigger pull fires single shot, long trigger pull fires burst.
Binary trigger: fires single shot when trigger is pulled, and another single shot when is released.
BurstX: gun shoots burst (set by user) per trigger pull.
BurstX+BurstY: short trigger press fires burstX, long trigger press makes burstX+burstY fire.
BurstX/Full: short trigger press fires burstX, long trigger press makes auto fire.
Full: gun will auto fire until releasing trigger.
Virtual reload: pull trigger to reload virtual magazine

External Input:
Works with Input terminal


OFF: Every signal to Input terminal is ignored.
External trigger: gun trigger is disabled and replaced by micro switch connected to Input (SIG and GND)
AUG trigger: selector plate detection is disabled. Gun trigger is set to selector on semi. Micro switch connected to Input (SIG, GND) is set to selector on auto.
Empty mag (NO): Micro switch activates empty magazine detection, when is connected SIG with GND.
Empty mag (NC): Micro switch activates empty magazine detection, when is disconnected SIG with GND.
Virtual magazine: Micro switch activates virtual magazine reload, when is connected SIG with GND.

External Output:
Works with Output terminal: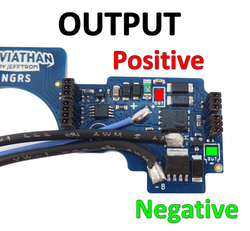 - OFF: output terminal works only if the Input terminal activates it.
- Motor: output terminal is ON with gun motor + with IN activation.
- Motor + Xs: output terminal is ON with gun motor with time delay after gun motor is deactivated + with IN activation.
- Always on: the output terminal is constantly activated.

Remember - if you don't feel comfortable carrying out your own gun servicing, repairs or upgrades, we have experienced airsoft technicians in-store and can do the work for you. You can even book a service with us online by clicking the link below!
To buy an airsoft weapon in the UK you must have a valid airsoft defence.
This is not a licence, it is basically just proof that you intend to buy an airsoft weapon for use in airsoft.
An airsoft defence could be a UKARA or membership with the British Airsoft Club, and various other forms of defence.
You can only obtain an airsoft defence once you are over the age of 18.
To get an airsoft defence the law is that you should play at least 3 games of airsoft, and that you must have been playing for at least two months.
You can still buy an airsoft gun without a defence, provided you are 18 or older. If you choose to do this we would, by law, two tone (paint in a bright colour) parts of your chosen weapon. This is because an airsoft gun is considered a RIF aka Realistic Imitation Firearm, because they are so close to the real steel, whereas when you paint parts of it in a bright colour it becomes an IF aka Imitation Firearm. The reason being that the bright colours make it look less realistic to the public, and therefor less likely to be mistaken as real, were it to be used for any other purpose than airsoft.
When you order a gun from us you will need to add your defence details in the comments section of the cart. If you do not have a defence you will need to write the colour that you wish to be used for two toning your airsoft weapon.
Here is what's stated in the VCRA (Violent Crime Reduction) Act:
For airsoft skirmishing, the Association of British Airsoft is putting in place arrangements to allow retailers to check that individual purchasers are members of a genuine skirmishing club or site. The key elements of these arrangements are:
1. new players must play at least 3 (three) times in a period of not less than two months before being offered membership
2. membership cards with a photograph and recognised format will be issued for production to retailers
3. A central database will be set up for retailers to cross-check a purchaser's details
4. member's entry on the database will be deleted if unused for 12 months.
The defence for airsoft skirmishing can apply to individual players because their purchase of realistic imitation firearms for this purpose is considered part of the "holding" of a skirmishing event.